POWERING SMARTER DECISIONS
Knowledge is power — Polaris Intelligence helps deliver the market insights your team needs to answer your most important questions.
Our online research solution helps guide your most important decisions with data driven customer insights:
Customer Profiling
Know your customers better than they know themselves. Receive reports on demographics, shopping patterns, media consumption and much more.
Trade Area Analysis
Get to know the neighbourhood for your new location. Designate flexible trade areas by drive time, or with custom circles or polygons on our digital maps.
Points of Interest (POI) Analysis
Keep your friends close and your competitors closer. Analyze nearby competitors and discover market insights your rivals might miss.
Mapping
Visualize your success with our heatmaps and gain spatial insight into customer patterns, demographic profiles and potential business locations.
Targeting Top Prospects
Don't settle. We help you maximize your ROI and target customers and prospects.
Data Mining
Stay on trend, by analyzing data for potential movements. Integrate our reports with your customer information to develop new business acquisition and retention strategies.
Gravity Model
The Gravity Model identifies primary, secondary and tertiary trade areas of a store or a list of stores, based on a customer list and shortest distance to the stores.
Feature Selection
Feature Selection is a model for finding the most distinct characteristics of customers or trade areas. 
Customer Allocation
Customer Allocation assigns a list of customers to stores, based on the assumption that consumers shop most likely at the closest store in geographic distance or shortest driving time.
Trend Analysis
Examine historical trends while enhancing your ability to predict future trends using historical data from 2016 to current year across our 23 demographic reports, 3 household spending reports, 2 CanaCode Lifestyle reports, and 80+ consumer behaviour reports.
Analytical Models
Analytical Models is an implementation of models used in custom projects for trade area and customer insight analysis. 
Weather Analysis
Tap into historical, present and forecasted weather data for any market. Use weather patterns to better understand how the weather contributed to the performance of your marketing campaigns and sales.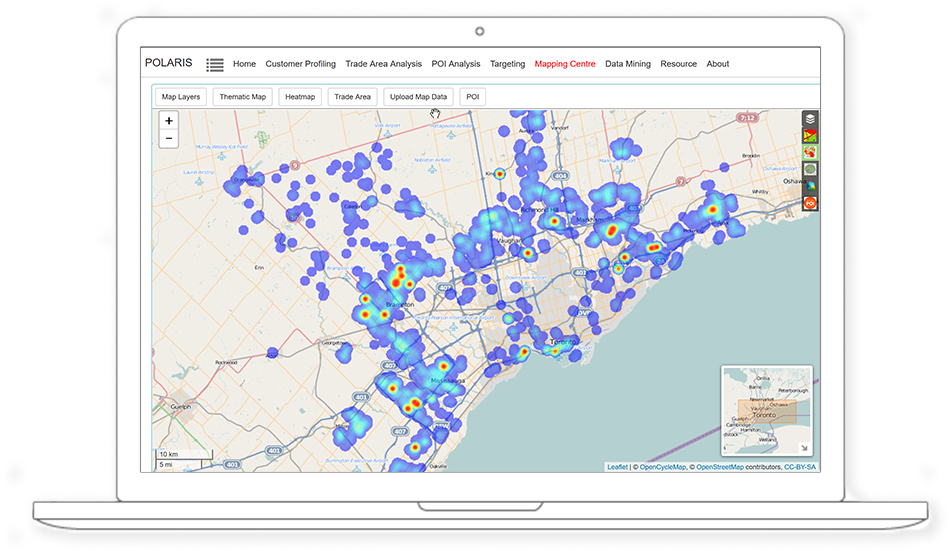 Enhance your Marketing ROI by layering Polaris Modules with our Mapping Centre
Layer multiple mapping functions together to determine highly concentrated customer areas paired with geographic segmentation by income to target your ideal customer more specifically and improve your overall marketing ROI.
Think You 
Really

 Know Your Customers?

Polaris Intelligence data insights help you learn your market's spending habits and media engagement, so you can develop personalized, targeted campaigns and build stronger customer relationships.
Age: 35-49

Average Household Income: $ 110,245

Average Home Value: $ 1,505,889

Lifestyle Type: Elite Professionals

Vehicle: Sports car and SUV

Active In: Health clubs, snowboarding

Spends Money On: Cross border shopping

Favourite Coffee Shop: Starbucks

Favourite Social Network: LinkedIn

Psychographics/ Health Concerns: Nutrition content of food

Invests With: Full service investment broker

Age: 65-79

Average Household Income: $ 100,983

Average Home Value: $ 336,406

Lifestyle Type: Empty Nesters

Vehicle:  Sedan and pickup truck

Active In:  Whale watching, walking

Spends Money On: Garden supplies, hair salons

Favourite Coffee Shop: Tim Hortons

Favourite Social Network:  Pinterest

Psychographics/ Health Concerns: Buy local produce/products

Invests With: Bank

Age: 35-49

Average Household Income: $ 124,982

Average Home Value: $ 987,545

Lifestyle Type: Buy Me a New Home

Vehicle: Minivan and station wagon

Active In: Jogging and yoga

Spends Money On: Groceries and online shopping

Favourite Coffee Shop: Tim Hortons

Favourite Social Network: Instagram

Psychographics/ Health Concerns: Weight conscious

Invests With: Financial planner

Questions? Call Us
Feel free to call us and speak to a data analyst expert who can answer any question you might have regarding our software.

Schedule a Demo
If you want a more in depth look into how Polaris can help your business, contact us and we'll schedule a complete demo of our services.
Take a Tour
Learn more about our features including our 11 modules and 150+ targeted reports that will help you boost your marketing ROI.