Perfect Your Postal Code Search
Google vs. Canada Post vs. Polaris
What do you think of when someone mentions a postal code? Most people think about their home postal code, which tends to stay the same for the entire time they live there. Most postal codes are static, but there is a small fraction of postal codes that do change (about ~0.5% per year). These changes occur due to new developments!
Looking at development trends in Toronto – we can see an increase in new developments from the city core to the suburbs over the past 60+ years. Otherwise known as urbanization or urban sprawl.
These images demonstrate the shift of locations for dwellings that are less than 10 years old to 60+ years old at FSA level. Developments generally shift from the city core of Toronto outwards to more suburban areas over the decades. The dark red areas are where the highest number of dwellings for the dwelling age group are located. (Stay tuned for our future blog post on this topic!)
To accommodate these new developments, hundreds of postal codes are added, retired or reused every month! In the past year, 3,445 new postal codes were created or became populated and 778 were retired!
What does this mean for Polaris users? Occasionally, you may run into postal codes that are not on Polaris but on Google or vice versa due to their turnover.
In this post, we will outline a method for you to easily find the right postal code for any address. This will ensure you gather the correct insights on Polaris!
Find the Right Postal Code
Canada Post Corporation defines all postal codes within Canada and assigns them to addresses. To keep Polaris current, we receive monthly data updates from Canada Post, and implement these postal code changes into the app.
If you run into a mismatch between Google and Polaris, we recommend using Canada Post's Address Complete tool to verify the postal code for your address!
Let's walk through an example to show you what to do if you encounter this situation:
Say you need to find the postal code for Shops at Morgan Crossing. Let's search the address of the location ("15765 Croydon Drive") on Google to find the postal code. Google provides "V3S 2L6".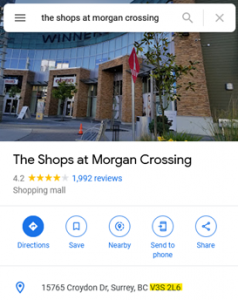 Now, let's try to search this postal code from Google on Polaris. Whoops error encountered, this postal code does not register to any address!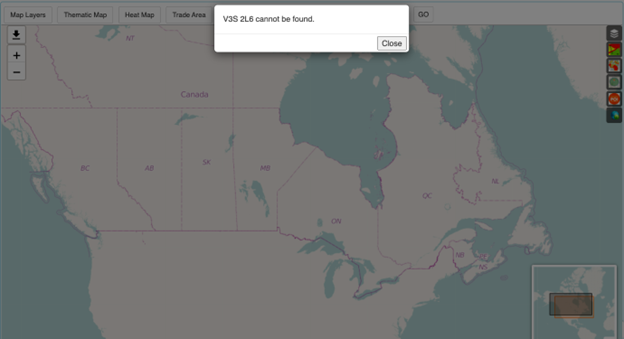 To verify the right postal code, we will use Canada Post's Address Complete tool!
To use this tool, type in the address that you want to retrieve the postal code for. So in this case, it is "15765 Croydon Drive".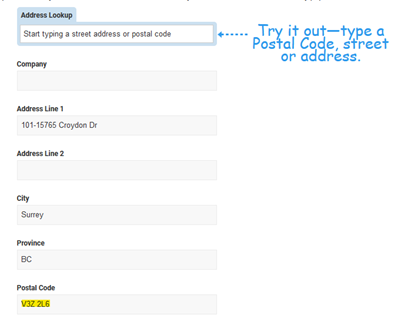 Canada Post populates a postal code of "V3Z 2L6" for this address.
The most accurate postal code is the one Canada Post provides. If you search the Canada Post postal code on Polaris, it displays the accurate location for this address. Problem solved!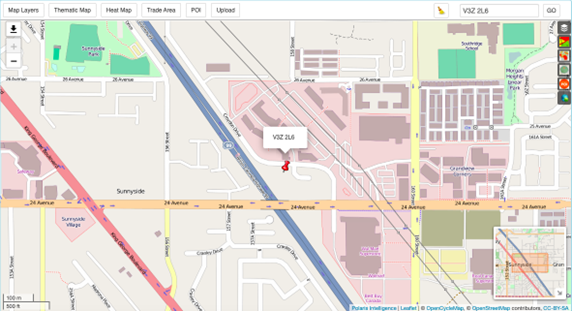 In the example above, we verified the postal code that Google gave us for a certain address. Occasionally, when you search an address on Google, Google might not find it. How do you find the postal code now? You can use the Address Complete tool once again!
For example, if you type "60 Summit Crescent, Belleville" into Google, you'll notice that it does not retrieve any registered locations.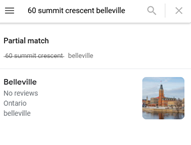 Although Google does not recognize the address, it does in fact exist. If you search the same address on Canada Post's Address Complete tool, it will provide you with a 6-digit postal code.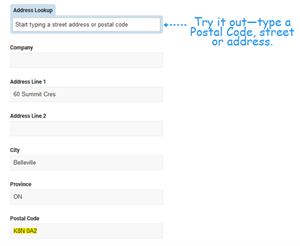 We can find the postal code Canada Post provides (K8N 0A2) on Polaris in the proper location for the address!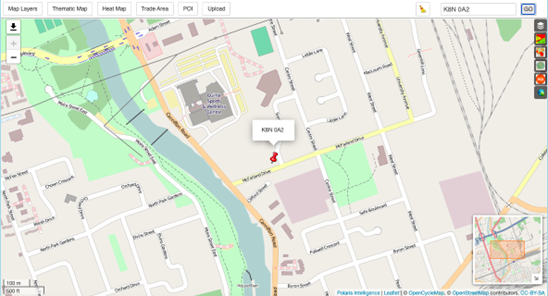 The postal codes on Polaris are more closely aligned with those from the Address Complete tool than those on Google. So if you run into a discrepancy between Polaris and Google, it is best to verify the postal code for your address with Canada Post's tool for the most accurate search on Polaris.
What Now?
You now have the resources needed to perfect your search on Polaris at the postal code level!
If you have any further questions, please do not hesitate to contact us.
Don't have Polaris yet but you're interested in learning more? We are more than happy to meet with you, connect with us here!