Release Notes April 25, 2022
Historical Data, New Module, Changing Colours and Font Sizes
Happy Spring! We have an exciting new module for this release: Trend Analysis! The Trend Analysis module enables users to view historical changes (since 2016) for customer files, trade areas, and pre-defined markets, across 23 demographic reports. Don't forget to check out our other exciting new features such as changing background colour and font size in the Mapping Centre and historical data for Feature Selection!
New Features
Trend Analysis

Say hello to our new module: Trend Analysis! Trend Analysis provides you with the ability to view historical data from 2016 to 2021 across our 23 demographic reports. Trend Analysis aims to help you observe historical trends while enhancing your ability to predict future trends.
Furthermore, graphs in Trend Analysis are responsive; allowing you to view variables, hide specific variables, and download the graph as a SVG image.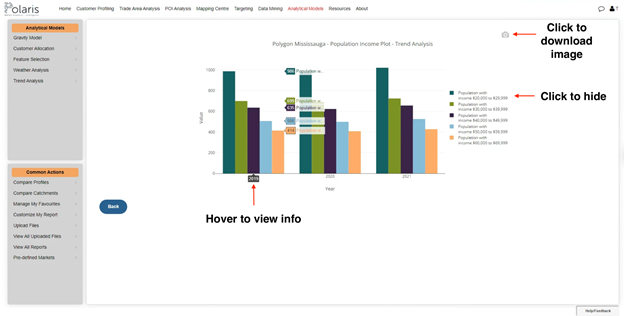 Historical Feature Selection

We have also implemented historical data in our Feature Selection module! To start using the historical data, change your year to a previous year. Your selected file and report will automatically update to give you your desired historical data.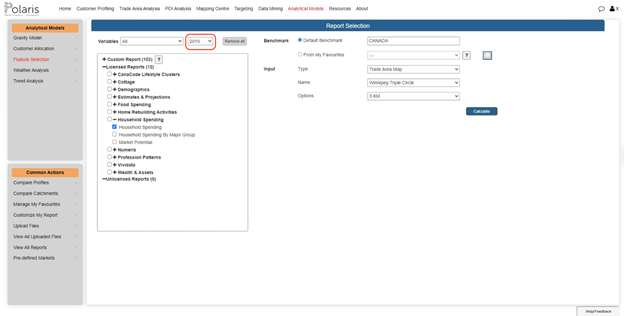 Change your Trade Area Background Colour!

This update brings a variety of background colours to Mapping Centre! You are able to change your trade area (e.g., polygon, triple circle, etc.) to any colour of your choice; helping you differentiate multiple trade areas. When you save your trade area, the colour is saved as well.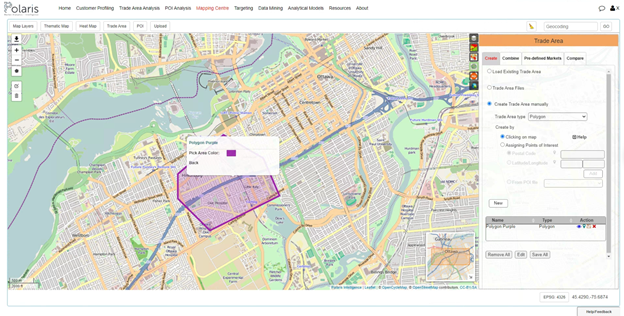 Change your POI Label Font Size!

We have also implemented changing the font size of your labels in the POI module in Mapping Centre! To change the font size, click on the POI label. To save the font size, you will need to save your POI file again.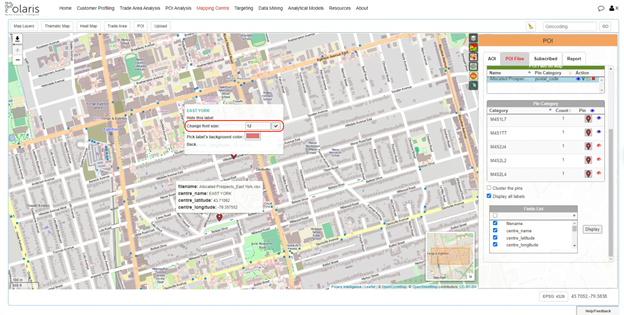 Upload FSA as Zone File for Targeting Module

Our team has implemented Forward Sortation Areas in Targeting! This update allows you to upload your desired FSA file as a multiple zone market. Then, you can use the Targeting module to rank postal codes in the FSA.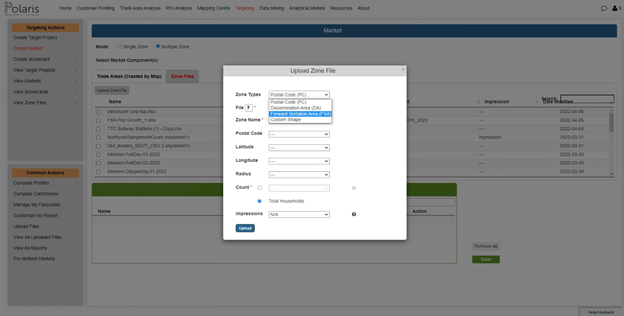 Enhancements
Filtering for View POI Files

With this release, you can filter for the names, pin category, etc. of POI files in the POI Analysis module.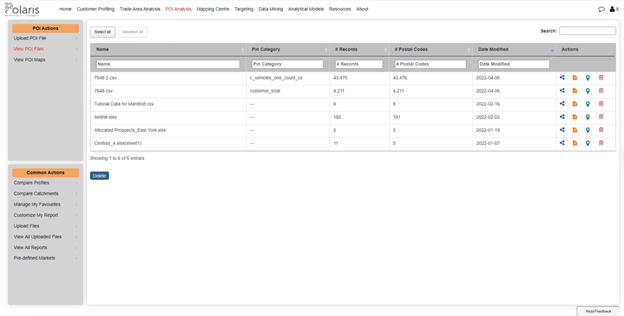 To make Polaris more accessible, when you get a popup with a field for your input (e.g. to provide a name for a market), you can begin typing immediately. You no longer need to click on the input box before typing.