Release Notes November 30, 2020
New features, new data, faster loading times, and an improved user experience.
This month's release allows users to import shapefiles into Polaris, create new variables with two new transformations (Divide and Subtract) for the Targeting Module, and includes new data on cottages and area calculations (land area and inhabited area).
New Features!
Want to import a shape or trade area onto Polaris? You can now import custom shape files into Polaris Intelligence! Last month, we built out the ability to import KML files onto Polaris. Now, users can upload files such as .shp, .shx, .dbf, .prj. This means users can create trade areas on other software like Google Earth or specialized GIS software like ArcGIS and QGIS, then import them onto Polaris Intelligence.

For .shp files, all four files must be uploaded at the same time. .SHP – the main file that stores the feature geometry, .SHX – the index file that stores the index of the feature geometry, .DBF – the dBASE table that stores the attribute information of features
There is a one-to-one relationship between geometry and attributes, which is based on record number. Please note that attribute records in the dBASE file must be in the same order as records in the main file. .PRJ – the file that stores the coordinate system information.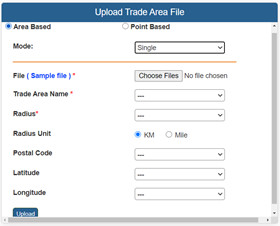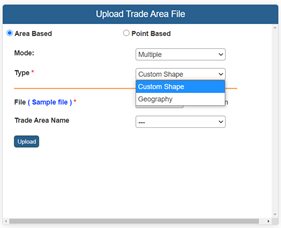 Users can now apply two more Transformations to variables in Targeting! We added "Divide" and "Subtract" to the Transformations dropdown in the Targeting module on the Scorecard page. This allows users to create new variable combinations like never before. For all you media agency Polaris Intelligence users, the "Multiply" transformation is like the cross-tab function. The difference between Polaris Intelligence and all the other software is that Polaris Intelligence allows you to apply these transformations at a sub-market level, so you can see if King West really is the right neighbourhood for that brand activation, or if it's more appropriate elsewhere!

New Data!
Users can now select "cottage" as a variable in the Report Centre and the Targeting module! This is a custom variable that shows the number of cottages or seasonal homes that are only lived-in for part of the year in a trade area or market. Contact us if you would like to add this to your account.

We added 2 new area variables to the Summary Report: Land Area and Inhabited Area. These help users with population density calculations. Land area represents the total area covered in a trade area or pre-defined market. It includes parks, forests, industrial areas, and business areas, like parking lots. Inhabited area excludes parks, forests, industrial areas, and business areas, and can be considered a truer measurement for population density.
Enhancements
We enhanced the visualization of the outline of shapes that are created in the Mapping Centre. Shape outlines are now more consistent.
We reduced loading time for the Trade Area Panel in the Mapping Centre.
Ongoing changes to the UI throughout Polaris Intelligence.