Release Notes February 1, 2021
New data, new features, and an improved user experience
This release, we loaded a new vintage of data onto Polaris, with statistics that reflect conditions after the start of COVID. This release also enables users to use custom POI pins, move POI labels, change the colour of POI labels, choose Gravity Model centrepoints from the map, sharing markets with user's group members, and access the Numeris Scale document for those subscribed to Numeris reports!
New Data!
We loaded a new vintage of data onto Polaris this release. This is the 2020/2021 vintage, with statistics that reflect conditions after the start of COVID. COVID's largest impacts were on the Household Spending, Labour Force/Occupation, and Employment reports. In particular, the Labour Force/Occupation and Employment reports reflect conditions in December 2020.
If you use a custom report template, please resave your template (i.e. please click on the edit button and just save again).
If you want to get the latest data for your saved Trade Areas, Customer Files, or Markets (from the Targeting module), please recreate your saved Trade Areas or Markets and please reupload your Customer Files. Every year, Canada Post retires a few thousand residential postal codes and adds a few thousand residential postal codes. As a result, there may be new or now invalid postal codes in your Trade Area/Customer File/Market.

This year, we removed 2,909 postal codes from the residential postal code database because they have been retired, are not currently in use by Canada Post, or have been confirmed to be pure industrial/business areas. 5,929 residential postal codes were added.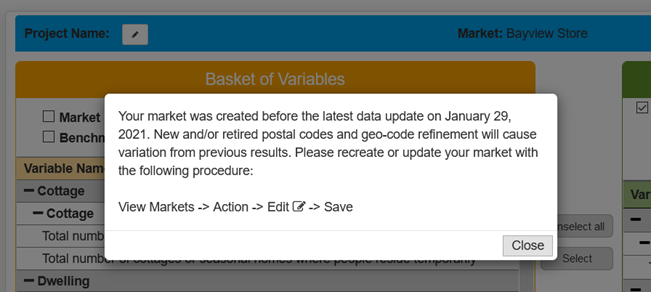 New Features!
First edition of movable labels in Mapping Centre! You can move and colour the labels on your pins when the map gets too crowded and to distinguish specific labels with selected colours. Drag the label to move it. Click on the label to select the colour you want.
Customize Pins in Mapping Centre! You can now upload your own customized pins to use as POI pins when you are mapping out your point(s) of interest. When you are changing pins, select the "+" icon to upload your custom pins.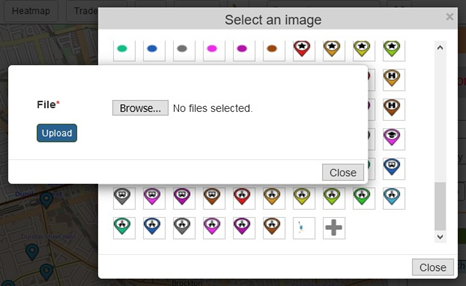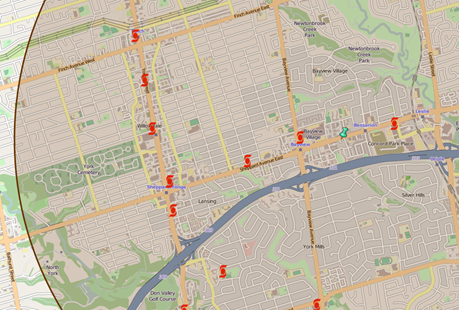 Gravity Model Centrepoint option! We added another way for users to select the Centrepoint in the Gravity Model! Once you have selected the "Centrepoint from map" option, click the Map and select your centrepoint.

Sharing Markets in Targeting! We added a share icon in the View Markets tab in Targeting that enables you to share your markets with your other members of your group!

Numeris Scale Document! If you subscribe to Numeris reports, you will have access to the Numeris Scale in Polaris. On the top right corner, find your user icon. Click the icon for a dropdown list. You will find the Numeris Scale link on that list. If you do not subscribe to Numeris reports, you will not be able to access this link.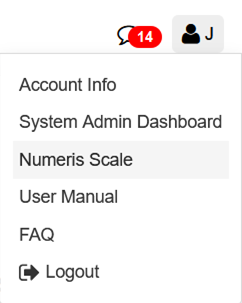 Enhancements
We found ways to increase the uploading speed throughout Polaris Intelligence for a better user experience.
We made ongoing changes to the UI throughout Polaris Intelligence to make our web app more responsive. For example, when your window gets small, the menu bar on the left turns into the icons below.