Release Notes October 21, 2022
FSAs, Progress Bars, and More
Spooky month brings a lot of treats and no tricks for Polaris users! We welcome Walk-Time Trade Areas, updated road networks, FSA-level customer profiling, progress bars with the ability to cancel actions, the ability to change the colour of Pre-Defined Markets, and a number of other enhancements. In the Targeting module, names for grouped and transformed variables can exceed 25 characters.
If you have any feedback or questions, feel free to let us know!
New Features
Walk-Time Trade Areas

You've been telling us how much you love drive time trade areas, and those of you in the downtown cores have been asking us about Walk-Time Trade Areas for a while. Our team has been working hard behind the scenes to bring you Walk-Time Trade Areas.
Walk-Time Trade Areas are great for downtown cores, where people may walk rather than drive to stores and points of interest such as pharmacies or other retailers on Queen Street West in Toronto.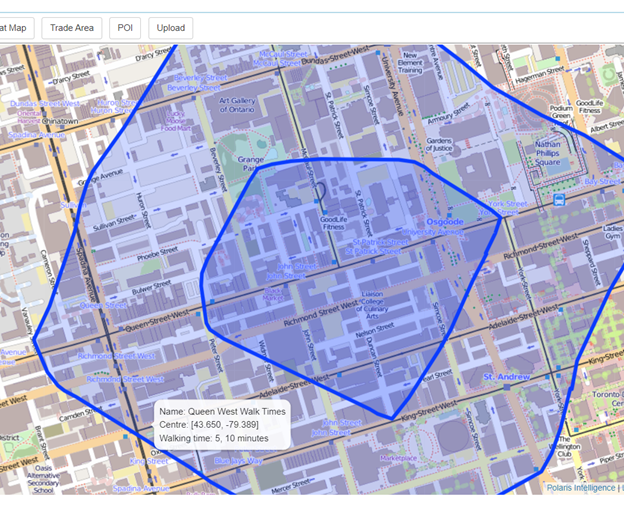 Walk-Time Trade Areas are naturally much smaller than Drive Time Trade Areas. If you are using 5-minute or 10-minute Walk Times outside of areas with high population densities (e.g. outside of major cities or downtown cores), you may run up against our privacy limits.

Updated Road Network

We updated our road network to the 2021 vintage. You might not notice it unless you are creating a Drive Time Trade Area in a location with new roads. This was done in the back-end, i.e. for driving calculations. The base map you see doesn't change.
This improvement affects Driving Time Trade Areas, Walking Time Trade Areas. In the Mapping Centre in POIs and AOIs, this improvement affects Driving Distance calculations and Driving Time calculations for POI Reports. In Analytical Modules, this improvement affects Customer Allocation driving times in Analytical Modules.
Upload

Users have always been able to upload 6-digit postal code level (FSALDU) customer files and profile them. In the last 12 months, we built the capability to profile DA (Dissemination Area) level customer files. You can now upload files that contain Forward Sortation Area (FSA) level customer files and profile them as well!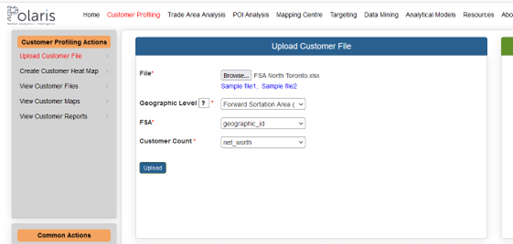 Feature Selection Progress Bar

We added a progress bar to the Feature Selection module to show the progress of certain actions. We also added the ability to cancel certain actions.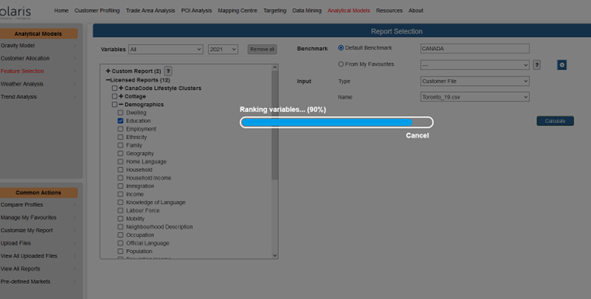 Enhancements
Targeting
If your market for Targeting is too large (>100 000 postal codes), a message will appear with the option to delete the created market.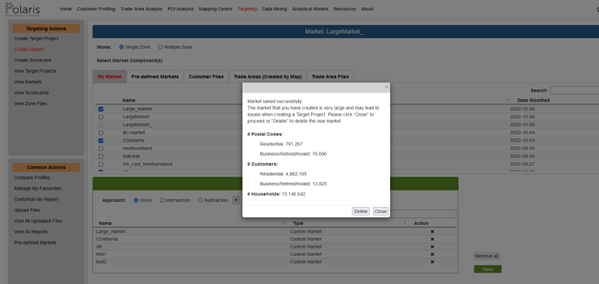 You can now name your grouped and transformed variables using more than 24 characters.

Market and Benchmark Profiling

We added a progress bar for your market and benchmark profiling in Targeting which allows you to cancel the profiling in-progress as well.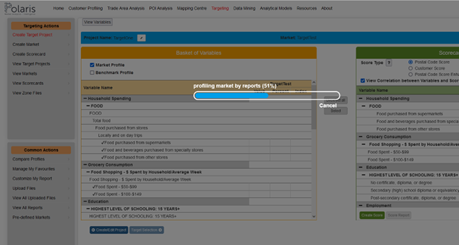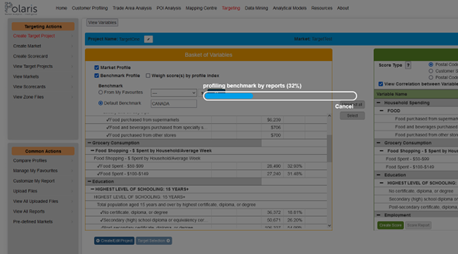 Mapping Centre
The colours of Pre-defined Markets can now be changed in the Mapping Centre.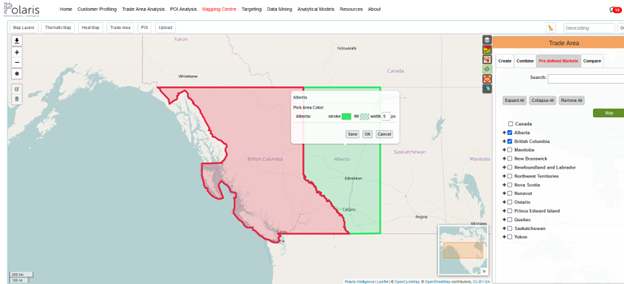 Uploading
We enhanced the progress bar for file uploads throughout Polaris to show the gradual progress of file uploading. You can cancel the upload process as well.
Have any questions about our new features? Want to learn more about Polaris and how we can help your business? Please do not hesitate to contact us at this link!