Release Notes January 10, 2022
New features, enhancements, and an improved user experience
We welcome the New Year with a new and improved Polaris! This month's release brings new functionalities and updates to our Mapping Centre, CanaCode Lifestyle Clusters, and to Pre-defined Market lists throughout Polaris. We optimized several Polaris modules, such as the Targeting and Manage My Favourites modules, to create a smoother and better user experience. We also introduced improvements such as change the benchmark in the Weather Module, Transform/Group variable names, and search refinements in Pre-defined Market lists.
New Features
Mapping Centre Updating File Lists– Previously the drop down list of files in Mapping Centre e.g., "Trade Area Files", would not update automatically once a file had been uploaded through the Mapping Centre. Now users will no longer have to refresh their page to use their recently uploaded files. This is because the drop down lists now update automatically.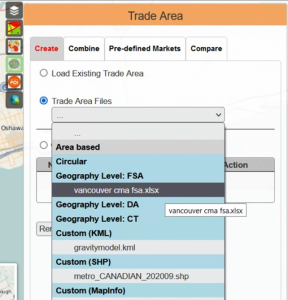 Pre-defined Markets Standardized – In this release, we improved consistency for Pre-defined Markets. Whether users are in the Mapping Centre, Targeting, Manage My Favourites modules, the functionality Pre-defined Markets list will be consistent, improving ease of use.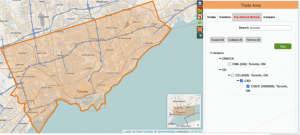 CanaCode Reports improved – The CanaCode Lifestyle Major Groups descriptions and images have been improved and updated. These revisions reflect the modern, dynamic lifestyle trends of Canadians.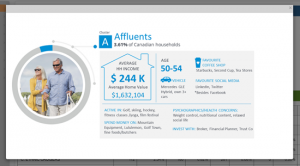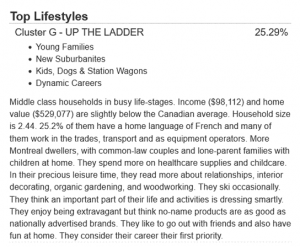 Cluster/Uncluster Pins in Target Selection – Now when users load a heat map from Target Selection page in Targeting Module, they can choose to cluster or uncluster the pins shown in the heat map. This is the same functionality that is available in the Mapping Centre module. It should be familiar to long time users, and make the new feature easy to become familiar with as well.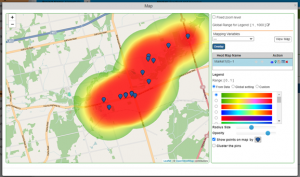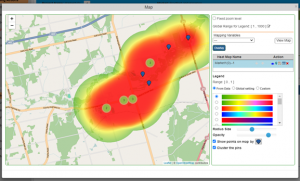 Year Selection in Feature Selection and Create Scorecard – Users are now able to create historical Scorecards as well as carry out Report Selection and Feature Selection Reports on historical data. This enables users to examine and compare past trends with current ones.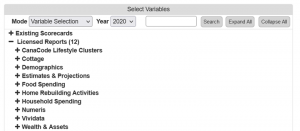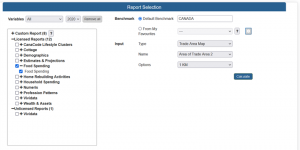 New Search Bars – New search bars have been added to Pre-Defined Markets, Customer Files, Trade Area Files, and Trade Areas (Created by Map) in the Manage My Favourites module. Users can now search for information such as the name, date, and type of the files. This allows users to view specific files quickly and efficiently.

Manage My Favourites Module Standardized ­– Before, the Manage My Favourites module was different depending on if the user was in the Feature Selection or Customer Profiling pages. With the January release, the Manage My Favourites module has been made consistent across Polaris platform. This provides users with improved page consistency.
Substantial Enhancements
Create Scorecard Format – The format of the Create Scorecard page in the Targeting Module has been improved. The new format gives more space to the search bar and keeps the scroll bar on the right of the "Select Variables" table.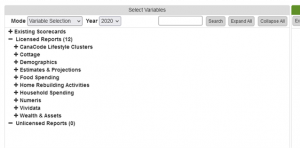 Search Refinements – Previously, users were able to search for the terms "CMA" and "CSD" in Pre-defined Markets lists throughout Polaris. Doing so would return all the CMAs/CSDs in Canada, resulting in too many hits to work through. Those search terms are now restricted, to avoid accidental searches. Additionally, there was an issue regarding searching for words containing brackets and parentheses. In this release, the issue has been resolved, so searching parentheses (e.g., "Customer (PC)") can be properly found.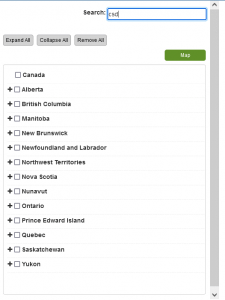 Transformed Variables Names – The format of the names displayed for Transformed Variables was adjusted. Users are now limited to 25 characters for any name they wish to give a transformed or grouped variable. Previously names had no character limits. In the past, when the variable name got too long, that sometimes interfered with the ability to save Target Projects properly.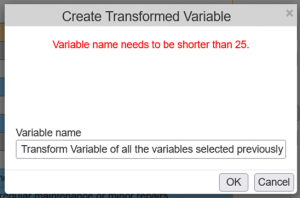 Thematic Maps Visibility – Prior to this release, Thematic Maps could disappear when used in certain ways in the Mapping Centre. Now those issues are resolved, and Thematic Maps remain visible.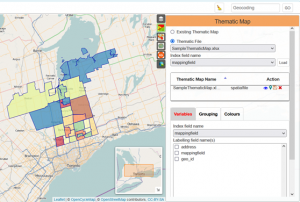 Message Optimization – Messages were added to a number of features to improve user understanding and experience.


Saved POI/Trade Areas Remain in Table – This feature allows newly created POI and Trade Area files to remain in the table after users click the save button. This streamlines the POI and Trade Area experience in Mapping Centre.

Thematic Maps in Targeting – Previously, in the Targeting module, users were not able to load some thematic maps in the Target Selection and were not able to save the thematic maps. With this new release, all the thematic maps (DA/FSA/CT) can be loaded on the map in the Target Selection, and users can save the thematic maps.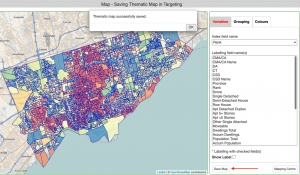 For more information, please feel free to Contact Us or your account manager.